Ordering
You can place your order by calling us toll free at 1-866-333-3715
or by filling out our order form and returning by either fax or US mail.
Alamo City Gold & Silver
950 N.E. Loop 410, San Antonio, TX 78209
Be sure to check the current prices of badges as gold goes up, so do our prices.
If you do not see your badge listed, please contact us by email or phone. We may already be making it for another officer, or we would be happy to custom create your department badge, for a small additional set up fee.
Please provide bitmap, jpg, gif or tif picture of your actual badge, or camera ready department artwork by email and or US Postal service. Be sure to include the department and the officers name in the subject line. NEW orders take additional set up and manufacturing time, so please allow 10 to 14 business days for completion of your order.
We will be glad to assist you in any custom design request.
The Ink
Our badges come with a black antique Indian ink, which is standard in the jewelry industry to highlight lettering for items such as class rings. With proper care of your badge the Indian ink will last for many years, however, it is NOT permanent. In addition, if you expose the badge and the ink on the badge to excessive water or heat exposure, it will cause the Indian ink to "float" up & out of the pendant in areas. Also, the chemicals in most standard jewelry cleaners will cause the ink to be removed in areas. Do not expose your badge to alcohol, acetone or any other cleaning solvent. Should your badge become so dirty that it requires additional cleaning, use soapy lukewarm water to gently rinse, and dry with a soft cloth.
If your ink has begun "lifting" simply take it to any qualified local jeweler in your area to "re-ink" (it takes only minutes & most will not charge a fee) OR you may return the badge to us, and we will refurbish your badge for only the cost of shipping.
We appreciate your patience & understanding.
You may request that your badge be fully inked or partially inked. Also, we are happy to provide your badge without any ink at all should you prefer that customization.
Flipside Inscription
Some people choose to personalize the backs of our pendants with a flipside inscription. There is a 30 word limit, or you may choose to use one of our poems.
The charge for flipside inscription is $30.
2 Sided "Flip" Style
A 2 Sided Flip style with recessed message is another customization option. Available with our without inking for effect, this personalization makes your piece unique. While the price is not quite double, the affect is twice as nice!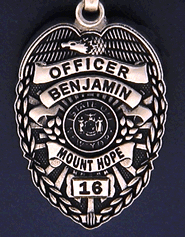 Diamonds / Birthstones
Customizing your badge with diamonds is a nice touch and most will accommodate at least one diamond for accent - if not more. Please call or email for a price estimate to add either diamonds or birthstones to your badge.
Two Tone Effects
Another nice effect is a two tone look. To achieve the two tone look we manufacture the badge in Yellow Gold, and finish out individual banners with a rhodium plating, much like a gold plating technique. This is a "top coat" finish which gives the effect of a two tone badge. The rhodium plating effect is done for an additional fee of $30. We can also highlight banners with a gold plating as seen in Rindge badge below.
Reversible or "Flip" Designs
Having two badges back to back, or a St Michael's design on the reverse side is a unique way to personalize your badge creation. There are some limitations, due to badge shapes, but we can work with you to find the perfect match.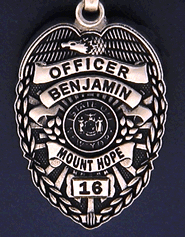 Enameling
Another option we have to really personalize your badge, is an effect called enameling. It is added to badge after finishing in blue, red, white or black. The enameling option is available for an additional fee of $30 each color. The process requires 48hrs additional manufacturing time, and is not available for RUSH orders. For more info click here ENAMEL